On 28 October 2022, the Joburg housing department hosted the annual Housing Day event. This was the department's first event since COVID-19 prevented the planning and hosting of any gatherings. The event was held at the Holiday Inn in Parktown, Johannesburg – a National Monument and heritage site, where we thoroughly enjoyed the first-class treatment.
Housing Day took place in collaboration with experienced attorneys and conveyancers who are on our panel of legal practitioners.
These are some of the topics they addressed:
• What to expect when administering a deceased estate; interactions and process with the Master's office
• Instituting and defending eviction proceedings, rule 46A applications and the debt review process
• The importance of due diligence when buying and selling property to protect interests, the process of applying for lost tile deeds and carrying amendments
• The "family house" concept. ProBono.Org is a law clinic and clearing house, but prides itself of learning. The Housing Day event is an example that serves the purpose of rights awareness and advocacy.
The Constitution of South Africa speaks to our rights to have access to adequate housing. The state is required, within its available
resources, to achieve the progressive realisation of that right. However, for these rights to become a lived experience, people need to understand what this right means for them.
The influx of cases which we witness in our Housing and Deceased Estates legal clinics prompts our organisation to collaborate with relevant stakeholders in meeting these needs and ensuring that community members are informed and empowered by receiving quality pro bono legal services. As a response to the gap that seemingly exists between our housing laws and the people we serve, the Housing Day event was aimed at meeting the needs of many who have propertyrelated issues and are in need of legal assistance which is difficult to access.

We emphasised the importance of knowing and understanding their housing rights and obligations when dealing with deceased estates as well as the legal processes involved in the buying and selling of properties. ProBono.Org seeks to make justice accessible to all; however, this can only be achieved if the general public understands the law and legal processes by which we are all governed and protected. One of our goals is to act as a channel to which legal assistance may be attained when one's rights have been infringed upon. This concern is at the root of many of the community workshops and training opportunities that ProBono.Org hosts.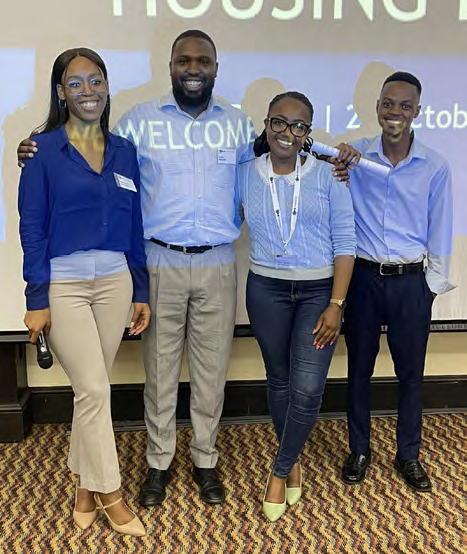 Community Advice Offices (CAOs) are the first point of contact in the various communities they serve, so they selectively chose people to attend from their communities who need assistance with housing matters. We were also able to guide them on other public interest law organisations that assist with housing related issues. We would like to thank our CAO paralegals for their keen support of the communities in which they operate. A special vote of thanks goes to our guest speakers of the day who eagerly accepted our invitation and gave excellent presentations. Thank you to Phatheka Maliphale of PPM Attorneys and Conveyancers; Chrysi Kripotos of Chrissi Kripotos Attorneys, Notaries & Conveyancers; and Nthabiseng Gambushe of Lowndes and Dlamini Attorneys.

Jabulani Manqele, our legal intern in the Housing department, also presented on the eviction process and made a valuable contribution in sharing some of the case studies which we often see in the housing clinic.