South Africa celebrates International Children's Day on the first Saturday of November every year which aims to create a platform for dialogue. This year it focused on problems experienced by women and children, in particular violence perpetrated against them. The Friday night dialogue envisaged discussing the causes and appropriate solutions. As the festival's main focus is always on children, the festival aimed especially at promoting the protection of children and their rights.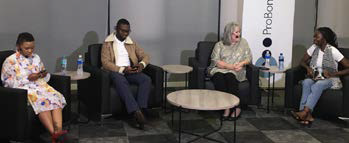 ProBono.Org, Constitution Hill, Skilful Spaces and Play Africa partnered to celebrate International Children's Day on 5 and 6 November 2021. Numbers of participants in the festival were limited according to COVID-19 regulations. On 5 November there was a webinar under the topic "The voice of the child" (what it means, how to listen to one's child, how to give children the opportunity to speak out). It was a hybrid webinar dialogue as it had a live audience and a panel, with non-attending people sending in e-questions. The dialogue was streamed live on the Facebook pages of Constitution Hill and ProBono.Org where people engaged with the panel. Around 800 people accessed the Facebook Live event. On the panel were:
Bongani Dlamini – Children's Rights Advocate (The Council SA)
Zviko Kanyoko – Architect, Researcher (Play Africa)
Nthabiseng Sekhabela – Founder and CEO of Skilful Spaces
Bev Loubser – Attorney, Conveyancer, Notary and Mediator ( ProBono.Org)
On 6 November, the programme of the day focused on celebrating children by educating them about their rights through fun and interactive activities. The children participated in a mock trial in a real court with real robes designed for them. There was also storytelling and a puppet show – all teaching them about their rights.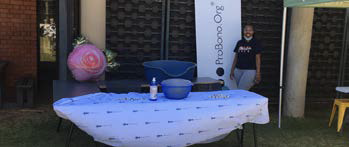 ProBono.Org had a beautiful table set up where children had a scavenger hunt for their "rights". Appropriate rights, taken from the Bill of Rights, were printed, laminated and cut into small strips. These strips were placed in sawdust for each child to dig out as many as they could in 30 seconds. The children gathered around the table counted down the seconds. The child hunting would read out one of the rights he or she had chosen. Each child received a bracelet reminding them every day of the year of their right to say no to abuse and a pamphlet explaining their rights and where to look for help. As the children got prizes and sweets after reading out their rights, our table was big hit and they had a whale of a time.
Over 80 children participated on the day and were very well attended to and catered for with a healthy breakfast and lunch.