The Annual ProBono.Org Awards are held to honour the legal practitioners and others for their consistent diligence and outstanding contribution to pro bono work. The 2021 awards were held online on 27 January 2022 where all three ProBono.Org offices convened in celebrating the pro bono work of the legal profession in 2020/2021.
Our guest speaker, Janine Myburgh, Chairperson of the Legal Practice Council noted that "ProBono.Org has a phenomenal impact on the legal profession". Moreover, she noted that "the Department of Justice has not yet promulgated regulations around community service in terms of Section 29 of the Legal Practice Act"… "I will personally persist that this remains on the desk of the Ministry of Justice", she said. Ms Myburgh went on to acknolwdege the amazing men and women of the legal profession who "selflessly go beyond the call of duty to make the legal system accesible to all".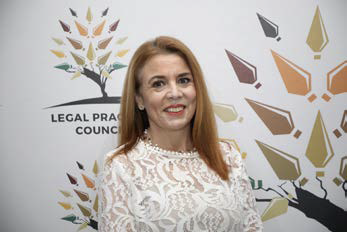 These were the award winners:
Most Helpful Attorney
– Venilla Govender of Meumann, White Attorneys, Durban
– Candice Pillay, Norton Rose Fulbright SA
Most Helpful Advocate
– Adv Andre Strauss, Durban Bar
– Adv David Simonsz, Cape Bar
– Adv Karen Potgieter, The Johannesburg Society of Advocates
Most Promising Newcomer
– Nozipho Mvulane, Rajaram Mvulane Attorneys, Durban
– Sarah Jane Henshall, Henshall & Associates, Cape Town
Most promising Varsity College law student 2021
– Melisha Peters, Durban campus
– Nia Yu, Cape Town campus
Wills
– Rita Padayachee, Mooney Ford Attorneys, Durban
– Natascha Treston, Gascoigne Randon & Associates, Johannesburg
Staffing a Legal Clinic
– Labour Law
– Adv Deidre Goosen, Thulamela Chambers
SMME clinic and workshops during the Covid-19 lockdown period
– Fasken Attorneys– Deeds Clinic, Bangiso Mhlabeni Inc.
– Housing Clinic, Naledi Motsiri, Werksmans Attorneys
– Refugee Clinic, Ndou Attorneys
– Deceased Estates Clinic, Nomusa Ndaba, Nomusa Ndaba Attorneys
Most Helpful Intern
– Tebogo Makwala, the labour, wills, and CAO junior project coordinator in the Johannesburg office.
– Khanyisa Molaoa, the labour, wills, and Anglo junior project coordinator in the Johannesburg office.
Outstanding student at a university law clinic
– Ewan-Nize Gerber, Stellenbosch University
Highest number of pro bono hours
– The award for 2020 went to Cliffe Dekker Hofmeyr
– The award for 2021 went to Fasken
Small Firm
– Debra Gouws Attorneys, Cape Town
Medium Firm
– Meumann White Attorneys, Durban
– Smith Tabata Buchanan Boyes Attorneys, Cape Town
– Pandor Attorneys, Johannesburg Large Firm
– Cliffe Dekker Hofmeyr for 2020
– Fasken for 2021
Child Law
– Adv Kalliopi Sachinis
Wills and Deceased Estates
– Lauwrence de Swardt Attorneys, Cape Town attorneys, Cape Town
Conveyancing– Debra Gouws Attorneys, Cape Town
The Most Active Community- Based Paralegal
– Mugidien Barnes, Heideveld, Cape Town
– Boitumelo Mthombeni of the Thusang Morwalo Community Advice Office, Kagiso
Attorney Most Committed to the Training of Candidate Legal Practitioners
– Elke Herbst from Bisset Boehmke McBlain, Cape Town
Firm that presented the Highest Number of Webinars Nationally for Legal Practitioners
– Norton Rose Fulbright SA Inc.
Special Mentions
– Adv Daniel Berger of the Bridge Group and Dawn Norton of Mkhabela Huntely Attorneys. They were acknowledged for the enormous amount of work they did on a CCMA arbitration over many months.
– Cliffe Dekker Hofmeyr for the Jose Brothers citizenship matter that they first took on in 2016.
– Werksmans Attorneys were given a special mention for the Tsotetsi case where they achieved success in the unlawful sale of a client's property being set aside.
– Advocate Jazz Vilakazi received a special mention for appearing pro bono in a sexual harassment case at the CCMA.
– Bowmans Attorneys were acknowledged for their professionalism, their detailed feedback, going all the way for