ProBono.Org joins South Africans and the world in the movement to fight against the violence and abuse of women and children. The 16 Days of Activism Campaign calls for the elimination of gender-based violence (GBV). It is run annually from 25 November (International Day Against Violence Against Women) until 10 December (International Human Rights Day).
President Cyril Ramaphosa described GBV as a second "pandemic" that spreads like a disease and continues to cripple our society, depriving women and children of their right to safety and to live without fear of being murdered, abused or raped. "As a man, as a husband and as a father, I am appalled at what is no less than a war being waged against the women and children of our country", he said. As witnessed in South Africa during the COVID-19 lockdown, GBV cases spiked as victims were stuck at home and confided with the perpetrators. Since most perpetrators are close family members or friends of the victim, it is important to raise awareness on this issue and to try to eliminate the shame and guilt that often burdens victims of abuse.

This year, in efforts to facilitate impactful dialogues on gender issues, GBV, rape, femicide and inequality, our Johannesburg office hosted an event on 28 November 2022 in collaboration with LIPCO- LAW FOR ALL. We had powerful talks from Nomzamo Kongola and Nomzamo Ndlovu from LIPCO who spoke on the topic of rape and sexual harassment, the bail process and the rights of a complainant. They also engaged on how the law protects victims of GBV as well as the process of applying for a protection order. Representatives from our Community Advice Offices also discussed organisations and forums that are specially trained to support victims of abuse as they operate in various communities.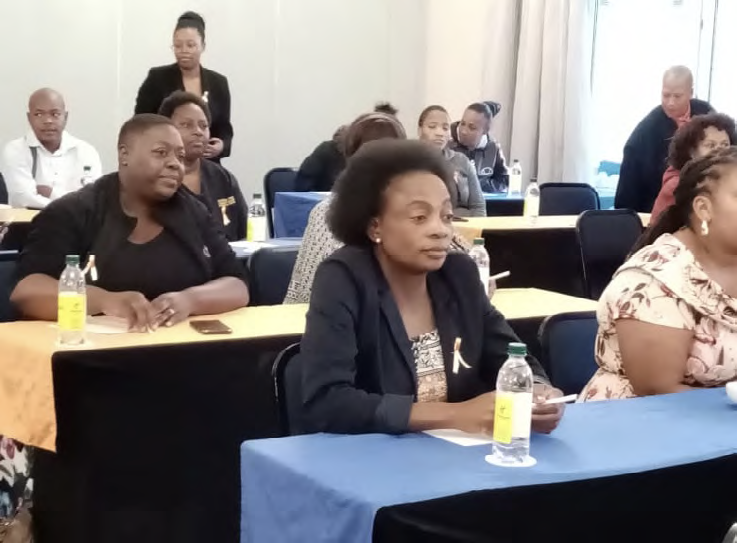 During the 16 Days of Activism Campaign we aim to emphasise that GBV and femicide are human rights violations and must be treated as such. People must be held accountable for their actions. We also seek to highlight the psychological trauma suffered by victims as well as those who are witnesses to such behaviour. Taking a firm stand against GBV is a step in ensuring the prevention of perpetual violence against women and children. We are trying to secure a future where men understand that their gender does not make them inherently superior to the other, nor does it entitle them to any women's body.

We call on all members of society, especially men, to stand against the abuse of women and children as a matter of urgency; to not witness abusive behaviour and walk away, but to be active and responsible citizens who take action against such acts. This is not only a fight for women; men need to step up and be part of the solution. Our laws need to be tightened to ensure that perpetrators are removed from society to secure the protection and safety of homes, schools, communities and workplaces.

Women and children cannot continue to die at the hands of those who are supposed to be protecting them. ProBono.Org supports the global fight against Gender-Based Violence
#EndViolenceAgainstWomenAndChildren!